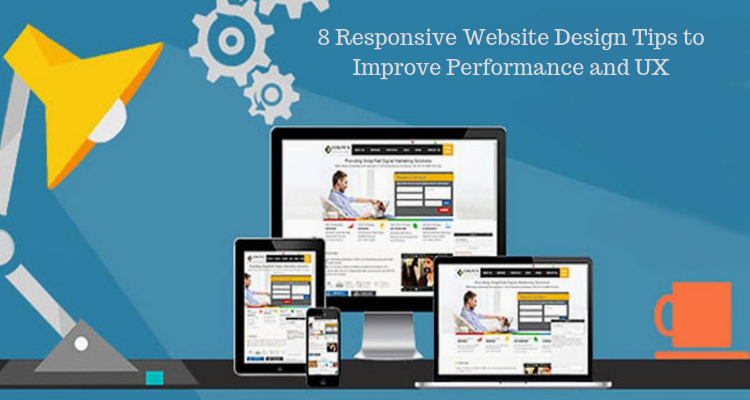 8 Responsive Website Design Tips to Improve Performance and UX
8 Responsive Website Design To Improve Performance and UX
Responsive design has become a necessity rather than a luxury in today's world where the majority of internet traffic is being driven through smart devices. An individual starting a blog for ice hockey fans in Canada must hire a firm for responsive website design in Vancouver in order to be able to reach a large number of people. With the blog being rendered perfectly on mobile devices, it will provide a satisfying user experience to visitors. This will have a positive effect on the overall traffic of the website. For the design to be effective, it is essential that the responsive website development firm based in Vancouver uses the best practices. Let's take a look at some tips which if used by the agency will enhance the overall user experience of the ice hockey blog readers.
1. Employ A Simple Design Strategy
All owners want their interface to have a unique look but an unplanned usage of unconventional design elements will result in an unsatisfactory user experience. A simple design strategy must be implemented which uses a limited colour-palette and easy to read typography elements. Leave some white space to provide some visual relief to readers and keep the attention focused on the message that is being conveyed through the website. Media and graphics are good tools to increase engagement but they must be used only if necessary.
2. Implement A Visual Hierarchy On The Website
One of the basic principles of effective responsive design is to ensure the implementation of a visual hierarchy while creating a page. Positioning and structuring elements according to their use and importance is the key to creating an effective visual organization. The most important elements are placed at the top of the page and bold colours and fonts are used for their creation so that they stand apart from other elements. For instance, the Vancouver-based web design company while designing the sports blog must know the usual scanning pattern of users while looking at a text-heavy page. This will be helpful in knowing where exactly to place visual elements to provide relief from the text.
3. Ensure Orderly Website Navigation
Website navigation is one of the most vital factors which affect user experience. Orderly and intuitive navigation can be immensely helpful in keeping visitors engaged with an interface for a long time. Designers must keep a limited number of navigation options in order to minimize confusion for users. Websites with a lot of content must include a prominently visible search bar and the major navigation options must be placed in the footer also.
4. Optimize And Resize All Images
Many website owners use images to enhance their content and increase the visual appeal of their websites. It is a good strategy but it can backfire easily if the images are used without any thought or planning. The professionals at the firm specializing in responsive website design in Vancouver hired by the ice hockey fan blog owner must ensure that all the pictures, GIFs and animations placed along with the posts are optimized. The visual elements must be resized and proper file formats must also be used. Not doing so can bloat the website and affect its loading speed.
5. Remove Unnecessary Page Elements
Web designers must keep only those elements which solve a purpose or add value to the website. They must assess and remove all unnecessary elements in order to provide a better user experience. The Canadian blogger would like to place forms to build a subscriber base but including them in three locations will be wasteful tactics. Not all forms will provide the same productive results and therefore at least one should be removed. It is important to know beforehand the manner in which visitors are likely to use page elements and choose them accordingly.
6. Design Buttons For Human Hands
Call to actions are vital components of any website which help in improving its conversion rate. The buttons used for these functions must be designed in such a manner that a person accessing the website on a mobile device does not encounter any difficulty in using them. Choosing a finger-friendly size will be sensible as it will be helpful for even differently-abled people to click them. Moreover, shapes that are easy to target with fingers like rectangle or circles must be used for designing these buttons. Adding shadows or gradients to impart dimensional effect will also help in targeting the buttons.
7. Adopt The Mobile First Approach
Responsive web design experts insist that the mobile first approach is adopted by professionals to ensure satisfying user experience. Creating a design for the mobile screen first will always make it easy to adapt the template to larger screen sizes. This will also ensure that the pages will render perfectly on all types of devices. Moreover, using this design approach will result only the most important and necessary design elements and functionality being included.
8. Include Keyboard Triggers In Forms
Forms have become vital components of modern interfaces. They help in enlarging the user base of an organization besides improving the website's conversion rate. Responsive design will ensure that forms are rendered perfectly on all screens but including keyboard triggers can take user experience to another level. Incorporating triggers which are activated whenever a person starts using an input field will be a convenient feature. Users will like it when the numeric keypad appears as soon as they touch a numeric field or the ABC keyboard pops up on reaching a text input field.
Conclusion
The Canadian sports blogger will get a high-performance website providing optimum user experience if the firm offering responsive website design in Vancouver, hired for designing the interface employs the above-mentioned tips.