e commerce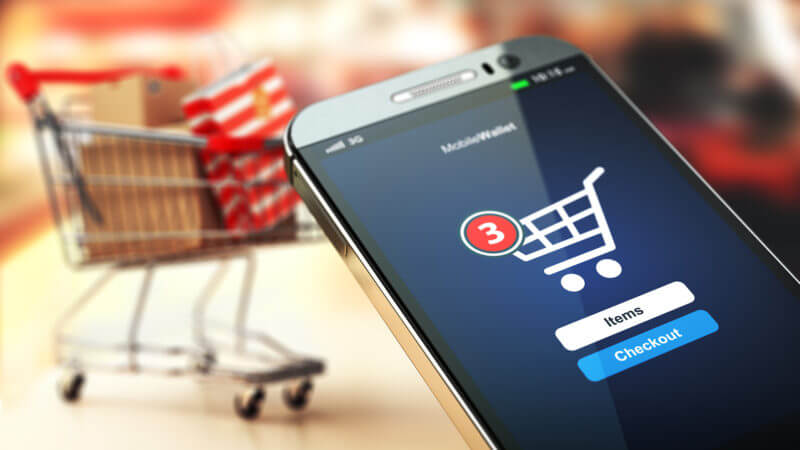 Mobile internet usage has emerged in these years, and people tend to use their phones or tablets more frequently than desktops and laptops. Mobile commerce is a natural extension of the mobile internet usage trend. Related articles had pointed out that "84% of millennials feel that using a mobile device to conduct business is vital and mobile device will be a trend in 2018".
Similar to that of B2C, the primary purpose of B2B e-commerce suppliers is serving the customers, bring exclusive customer experience. Let's see some tips to optimize your mobile e-commerce business.
Make sure the Website or APP is friendly with various devices
Before launching your websites on mobile devices, it is suggested to design different visual scripts that are applicable on different devices. Sometimes, content of visual script for PC could not be displayed completely within one page on mobile devices.
Information shows on the screen on mobile devices is limited. Therefore, the content should be as simple as possible. Too many navigation buttons will make customers confused. It will be smart to design a short menu, make search button outstanding and set up a button which is easy to return to the homepage. You need to clearly know which functions are used frequently by customers.
Loading speed is an important factor that influences the customer experience. You could increase the loading speed by uploading an image below 50kb and files below 25kb. Then it will not take much time for the customers to consistently viewing your webpages. What's more, you can also choose the continuous scrolling strategy so that customers do not need to wait for the pages' loading.
Simplify the transaction process
B2B transactions are more complex than that of B2C. However, in order to adjust to the mobile e-commerce transactions, some of the process could be simplified. For instance, process for ordering could be simpler. Make sure transaction details are confirmed by both parties, then follow a few steps to place the order.
And you can use the electronic contract and seal to save time. Suppliers and buyers could upload the contract on ecommerce platform and create their unique electronic seal which could be used to sign the contract after confirming the items.
Despite B2C mobile e-commerce developed earlier than B2B, they share common secrets. The live chat entrance will help the customers to communicate with you efficiently.  Another advice is to add function of 'posting buying requests'. Buyers could tell you what they need on the mobile devices by this mean and may also increase successful deals.
It's time for the B2B suppliers to build their own app or choose a proper e-commerce platform to sell products. Some of the platforms have already launch APPs with some basic functions. Like JumoreGlobal, a B2B ecommerce platform has just started to apply its APP. Now customers could register on their mobile devices with a few steps. So just keep pace with the mobile e-commerce trend, then you may succeed in business.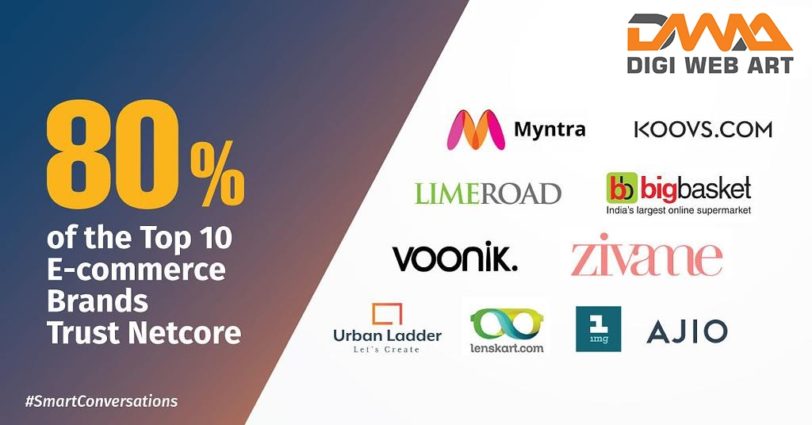 Here is a list of Top 10 Best Biggest Fashion Ecommerce Brands in India
India has an internet users base of about 450 million as of July 2017, 40% of the population. Despite being the second-largest userbase in world, only behind China (650 million, 48% of population), the penetration of e-commerce is low compared to markets like the United States (266 million, 84%), or France (54 M, 81%), but is growing at an unprecedented rate, adding around 6 million new entrants every month.The industry consensus is that growth is at an inflection point.
In India, cash on delivery is the most preferred payment method, accumulating 75% of the e-retail activities.Demand for international consumer products (including long-tail items) is growing much faster than in-country supply from authorised distributors and e-commerce offerings.
Market size and growth
India's fashion e-commerce market was worth about $3.9 billion in 2009, it went up to $12.6 billion in 2013. In 2013, the e-retail segment was worth US$2.3 billion. About 70% of India's e-commerce market is travel related.[According to Google India, there were 35 million online shoppers in India in 2014 Q1 and was expected to cross 100 million mark by end of year 2016. CAGR vis-à-vis a global growth rate of 8–10%. Electronics and Apparel are the biggest categories in terms of sales.
According to a study conducted by the Internet and Mobile Association of India, the e-commerce sector is estimated to reach Rs. 211,005 crore by December 2016. The study also stated that online travel accounts for 61% of the e-commerce market.
According to study done by Indian Institute of eCommerce, by 2021 India is expected to generate $100 billion online retail revenue out of which $35 billion will be through fashion e-commerce. Online apparel sales are set to grow four times in coming years.
India's retail market is estimated at $470 billion in 2011 and is expected to grow to $675 Bn by 2016 and $850 billion by 2020, – estimated CAGR of 10%..[11] According to Forrester, the e-commerce market in India is set to grow the fastest within the Asia-Pacific Region at a CAGR of over 57% between 2012–16.
As per "India Goes Digital",[13] a report by Avendus Capital, the Indian e-commerce market is estimated at Rs 28,500 Crore ($6.3 billion) for the year 2011. Online travel constitutes a sizable portion (87%) of this market today. Online travel market in India had a growth rate of 22% over the next 4 years and reach Rs 54,800 crore ($12.2 billion) in size by 2015. Indian e-tailing industry is estimated at Rs 3,600 crore (US$800 million) in 2011 and estimated to grow to Rs 53,000 crore ($11.8 billion) in 2015.
Overall e-commerce market had reached Rs 1,07,800 crores (US$24 billion) by the year 2015 with both online travel and e-tailing contributing equally. Another big segment in e-commerce is mobile/DTH recharge with nearly 1 million transactions daily by operator websites.
A new sector in e-commerce is online medicine, selling complementary and alternative medicine or prescription medicine online. There are no dedicated online pharmacy laws in India and it is permissible to sell prescription medicine online with a legitimate license.
Online sales of luxury products like jewellery also increased over the years. Most of the retail brands have also started entering into the market and they expect at least 20% sales through online in next 2–3 years.
Here we bring you some of the most popular Fashion Ecommerce Brands in India that you can aspire to have in your wardrobe.
Check out 10 Top Online Shopping sites in India
1 | Myntra: Online Shopping for Women, Men, Kids Fashion & Lifestyle
Business – Online Shopping Site for Fashion & Lifestyle in India. Shoes, Clothing, Accessories and lifestyle products for women & men
Website – https://www.myntra.com/
Myntra is an Indian fashion e-commerce company headquartered in Bengaluru, Karnataka, India. The company was founded in 2007 to sell personalized gift items. By 2010, Myntra shifted to selling clothing.
Shop online for your Favourite International Brands & Celebrity brands 
Whether it is clothing, footwear, jewelry, accessories and cosmetics, we showcase the most elite brands in the world. Tommy Hilfiger, Forever 21, Vero Moda, FabAlley, All About You by Deepika Padukone, Adidas, Puma, Reebok, Burberry, French Connection, Calvin Klein, HRX by Hrithik Roshan, Arrow, United Colors of Benetton, Esprit, Bombay Dyeing, Forest Essentials, L'Oréal Paris, M.A.C, Bobbi Brown, and thousands of other national and international, budget-friendly as well as luxury brands await you with products that you just cannot turn down.
2 | koovs – Online Shopping – Shop for Clothing, Shoes & Accessories in India at Koovs
Business – Shoes, Clothing, Jewellery and Accessories for Women & Men| Website –https://www.koovs.com/ |
KOOVS.COM is an online store for western fashion, catering to menswear, womenswear, footwear, accessories, jewellery and beauty products. The company is headquartered in Gurgaon, with office in London, and serves to the Indian market. The website stocks Indian and international brands and its own range of clothing and accessories. The company has also collaborated with international designers.
Online Shopping site for Women & Men in India. Buy Shoes, Clothing, Jewellery and Accessories for Women & Men at Koovs.com.
3 | Limeroad – Shop Men & Women Fashion Online in India
Business – Fashionable range of apparels, accessories, and more | Website –https://www.limeroad.com/| |
LimeRoad.com is a women-only, managed marketplace with a zero inventory model, showcasing over 750 big & small brands and 25,00,000+ user generated fashion looks. At present, 20% of the world's lifestyle products are manufactured in India, and LimeRoad is on a mission to conquer this market by making its discovery easy by a socially-architected approach.
LimeRoad is making a mark in the social commerce space in India and it has been a journey full of excitement, hard work and conviction. In a deep dive YourStory's fireside chat with the Suchi and Avnish, let's find out what it takes to build India's largest discovery platform for style and what can we learn from the experiences of this founder-investor duo.
4 | BigBasket – Online Grocery Shopping and Online Supermarket in India
Business – Vegetable store, food shopping online and groceries online | Website –https://www.bigbasket.com/ |
BigBasket (stylized as bigbasket) is an Indian online grocery and food products provider, founded in 2011. Headquartered in Bengaluru, the brand is run by Innovative Retail Concepts Private Limited in 30 Indian towns and cities. BigBasket sells fresh fruits and vegetables, grocery and staples, beverages, dairy and egg, meat, branded foods, personal care and household items via its website and mobile apps.With its pan-India presence, and a customer base of 6 million, BigBasket is the country's largest online grocer
5 | Voonik – Online Shopping Site for Sarees, Tops and Kurtis For Women in India
Business –  Women clothes, footwear, lingerie, bags, Sarees, Kurtis, Tops and jewellery | Website – https://www.voonik.com/ |
Voonik is an online marketplace operating in products for women's fashion. The company is based in Bengaluru, Karnataka. The startup was launched as a personal mobile application, before developing a website.
6 | Zivame – Bras, Panties, Nightwear, Swimwear, Sportswear, Lingerie
Business – Bras, Panties, Nightwear, Swimwear, Sportswear, Lingerie | Website –https://www.zivame.com/ |
Zivame was founded in 2011 with the vision of helping women uninhibitedly shop for intimate wear. Along the way, we saw the power of this idea and how it helped women break norms. Now we're taking it ahead and investing in a community that's influencing women in different ways. From our online-offline stores to our new category launches, all our innovations are driven by ideas that weren't thought of before.
7 | Urban Ladder – Home Wooden Furniture
Business – Furniute Online & Home Wooden Furniture Website | Website –  https://www.urbanladder.com/  |
Urban Ladder is an omnichannel furniture and decor retailer based out of Bangalore, India. Urban Ladder currently has 3 stores in Bangalore and distribution across 75 plus cities in India.Its products are similar to Godrej Interio, Pepperfry, Durian etc.
8 | Lenskart – Eyeglasses Frame 
Business – Sunglasses, Eyeglasses and Contact Lenses for men & women | Website – http://www.lenskart.com/ |
Lenskart, the first of its kind online optical store in India, has made it possible to acquire a good quality pair of specs with prescription lenses for just Rs. 399, all this while you sit in the comfort of your home. With a 48-hour free home delivery guarantee and 365 days return policy, Lenskart.com is doing what ecommerce hasn't been able to do in India yet.
9 | 1mg – Medicines and drugs
Business – India's best online pharmacy with a wide range of prescription and OTC medicines. | Website – https://www.1mg.com/ |
1 mg is an e-commerce health care company based in Gurgaon, Haryana, India. The company was founded in 2012 as HealthkartPlus, a subsidiary of HealthKart, by Prashant Tandon, Sameer Maheshwari, Gaurav Agarwal and Vikas Chauhan. In April 2015, HealthkartPlus spun off into a separate entity and rebranded itself as 1 mg. 1 mg operates an online marketplace for medicines, besides facilitating medical appointments and diagnostic test bookings.
10 | AJIO – Online Shopping for Clothing, Footwear, Fashion Tech & Accessories for Men, Women & Kids
Business – Clothing, Footwear, Accessories and Electronics | Website –https://www.ajio.com/ |
AJIO is an Indian e-commerce company in the fashion space, headquartered in Bangalore, Karnataka, India. AJIO was launched in 2016 by Reliance Retail, a subsidiary of Reliance Industries Ltd. led by Chairman Mukesh Ambani