Software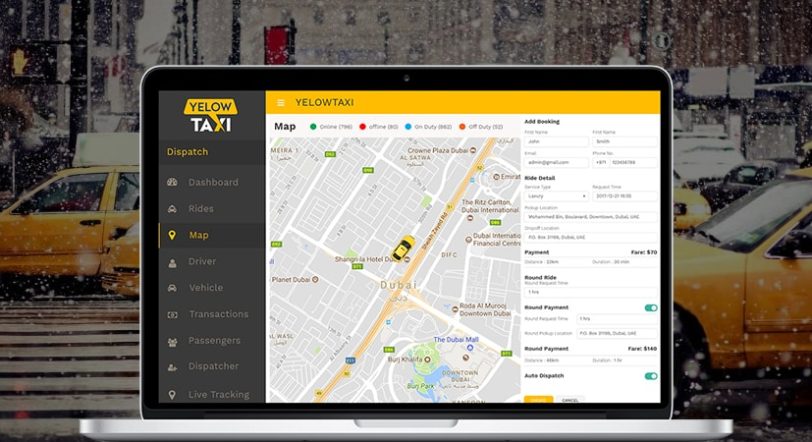 Most people, whether travelling alone, as a family or in a group, opt to order for a taxi since it is more convenient, comfortable and at times cheaper. As a result, the taxi industry has evolved at a higher rate than ever expected, therefore, attracting thousands of investors into the emerging market. With new taxi start-ups emerging each and every day, the difference between success and failure in the competitive market only depends on the taxi operator's effectiveness and efficiency while satisfying the consumer needs.
Is there any Need for Taxi Management Software?
Technology is rapidly changing the world with innovations sweeping across the service industries from all angles you can think of. In the current digital age, consumers are looking for ways to handle all their daily activities with ease and conveniently from home, work station, or anywhere at any given time. The mobile revolution too has influenced the way consumers search for goods or services, order, and pay. Consequently, taxi service providers are shifting their focus to enhancing customer experience, and reducing cost through the use of modern taxi management software.
Today, taxi firms have developed mobile apps and online taxi booking software that allow passengers to request for taxi from anywhere and anytime, within just a few taps on their mobile device. In addition, these applications benefit the business in many other ways including:
Increasing drivers' productivity.

Build consumer loyalty.

Improve customer experience and satisfaction.

Create awareness and strength your brand.

Increase visibility.

Reduce the cost and efficiency of business operations

Provide instant connection with the customer.

Getting and retaining customers.
However, not any taxi systems available in the market today will deliverable the desired results. Whether you want to develop a new taxi management solution or to purchase and customize an existing one, it is important to consider its efficiency from both the business and customer perspective. But how do you weigh the efficiency or inefficiency of a taxi management solution?
Major Efficiency Checks for a Taxi Management System
Though modern taxi management solutions differ in several ways, they are all aimed at solving the common problem; improving the efficiency of taxi services. Below are a few things you can use to determine how efficient a taxi system is:
The passenger application enables the user to book or cancel a taxi, get the actual arrival time, receive fare estimates, and know more about the driver among other crucial things at any given time. In most cases the taxi management system allows the customer to access the business services through a mobile or a web-based app. Some of the crucial passenger application features are:
Simple Sign Up

– Customers can sign up in just a few steps using their phone number, email address, or instantly through social media platforms.
Fare Estimate & Split Fare

– The app should be able provide the customer with an almost accurate spending before the trip based on the pickup location and destination, as well as the vehicle selection. Some apps can split the cost among several riders, making it convenient for group hire.
Integrated Automated Tracking

– The app should be have GPS feature that can automatically locate the live pickup point, as well as allow the customer to find the nearest cab when booking. Moreover the app should allow the customer the real-time location of the ordered vehicle to know the arrival status.
Simplified and Secure Payment Gateway

– It is important for the online taxi booking software

to have transparent and secure payment options that allows the user to make in-app or online payment using mobile banking and other methods such as PayPal and credit cards among other methods.
Communication Platform

– The app should allow in-app messaging and push notification to keep the customer updated and connected with your business and the drivers.
Other critical features include a rating, customer referral and live chat features.
In addition to improving customer experience, the taxi management software should aim at improving drivers' operations to enhance their productivity.
Trip Request Management

– To enable the drivers view the customers' booking details, rides assigned, and instant alert notification enabling them to efficiently manage requests.
Daily Trip Reports

– A summary of drivers completed and pending requests to help the drivers track their daily activities and earnings.
Street Pick-Up

– Allows the driver to pick passengers along a given route thus minimizing wait time.
The dispatcher section should be a central system which allows management of vehicles, passengers and drivers from a single platform making the dispatch process faster and error free. It is integrated to all other parts of the system. Some of the general features include:
Real-Time Update

– Helps the management to view the status of the entire fleet of taxi such as incoming requests, the closest free cab, the live location of the vehicle, and destination for onboard passengers. It makes it efficient to manage the business resources and monitor driver's behaviour.
Feedback Management

– Offers access to user ratings, reviews and complains enabling right decision making to enhance customer satisfaction.
Compliant Management

– The capability to use both manual and automatic dispatch by finding the taxi that is nearest the pickup request to increase flexibility and convenience for both the driver and the client.
The admin section allows you to have a total control over the company resources through:
Real-time Monitoring

– Provides a clear view of all the transactions, taxi reservations and CRM activities for effective business management.
Resources Management

– To allow adding of taxis and drivers as well as control dispatchers based on the current passenger demands.
Finance

– An accounting features that tracks payments, wage payment and fuel management.

Reporting and Analytics

– Access to real-time statistics on driver activity and revenue. It also generates data driven insights to help you improve your taxi operations.
Author – Bio
Mushahid Khatri is a solution consultant at Yelowsoft, one of the leading Taxi Booking app development company in 2011. It is known for developing Taxi Dispatch Software of unmatched quality. He believes in sharing his strong knowledge base with learned concentration on entrepreneurship and business.