indian wedding card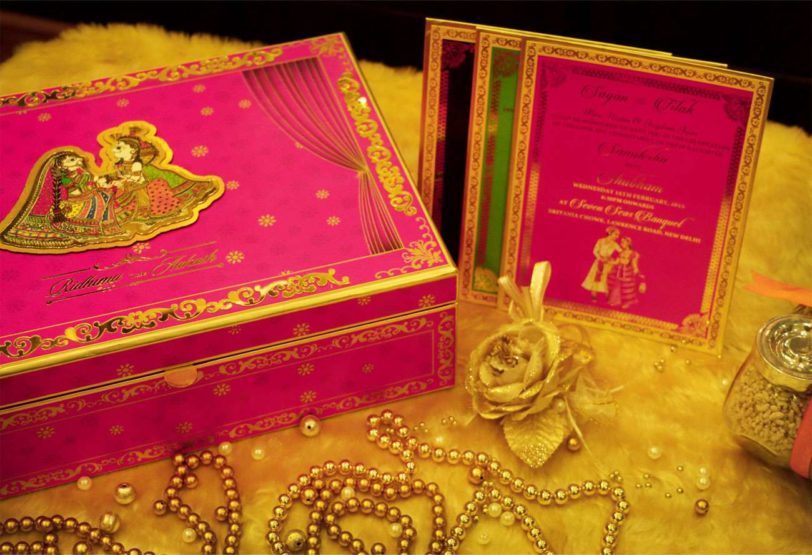 With wedding season around the corner, it is only natural that everyone is going bonkers with the ideas. Be it about the wedding cards, that lehenga design, those floral arches design or the regular catering service, weddings are the time when you go big and bold on everything you can lay your hands on. But do we have enough ideas to implement? Probably. How about we recommend the top wedding card ideas and trends this wedding season so that your invitation stands out from the rest?
1)  Calligraphy and greens: Not all wedding cards have to be red and gold. Some can be green and white too. Go majorly stylish on the font which can set it up as a unique proposal for your guests. Wedding card designs, Indian has been a trail blazer and it is essential that it continues to do that. If you have a forest themed wedding or a destination wedding where you intend to incorporate a lot of greens, this one can go out in all boughs and branches and send a sweet message.
2)  Trend it up with water colours: if you like soft, pastel hues and shades, you can always opt for a watercolour shaded wedding invitation card. Currently trending as one of the best Indian wedding card designs, the covers could be detailed in intricate cut outs such that it gives a detailed lace like feel which is equally delicate.
3)  Fonts that stand out: Simple and minimal is the trend and is always classy. So, instead of going bold on the colour, go bold on the font. Choose one that resonates with your style to make it more personalised.
4) How about a balloon inside the card : no, it is not just the balloon. You could have a wedding invitation with a quirky message that is more like a DIY activity for your invitees. A message printed on the balloon would be a fun way to design your wedding invite.
5)  Floral all the way: any spring or autumn wedding calls exclusively for floral wedding invitation cards. It is not just any floral design these days. Top wedding card trends have a lot of designs which border on the verge of contemporary and modern when it comes to wedding invitations.
6) Detailing in gold, silver and even bronze: if you are one of the supporters of monochrome, a minimal detailing in gold or even silver complementing your personal style would bring out the beauty in that wedding card. Be it a wedding cards design in jaipur or even Udaipur, the trends of integrating gold with red and black and silver with white are one of the most popular trends. You could also add a twist of Europe by sending it out as a rolled message.
7) Rustic tags: Rustic is old school and rustic is fancy. Even if it is one of the oldest methods, put those tags on the cards for your groom squad or the bride squad. It is essential that you do because it is them you want by your side and it is important that you make it special.
8)  Travel junkie? How about make a card like that?: if you are one of those couples who loves travelling around the world, why not put that on the card. You could design one of the places you have travelled together and the different milestones that you have achieved to give it a personal touch. It is memories after all and it deserves to be preserved.
9)  Pop Up cards: if it is a destination wedding, theme your cards accordingly. If it is the Jaipur, ensure that the card pop up gives out a subtle message.
10)  Boxed invites: multiple cards for multiple ceremonies in one single box with different accompaniments. Take it up a notch by making an invitation basket which is traditional and classy at the same time.