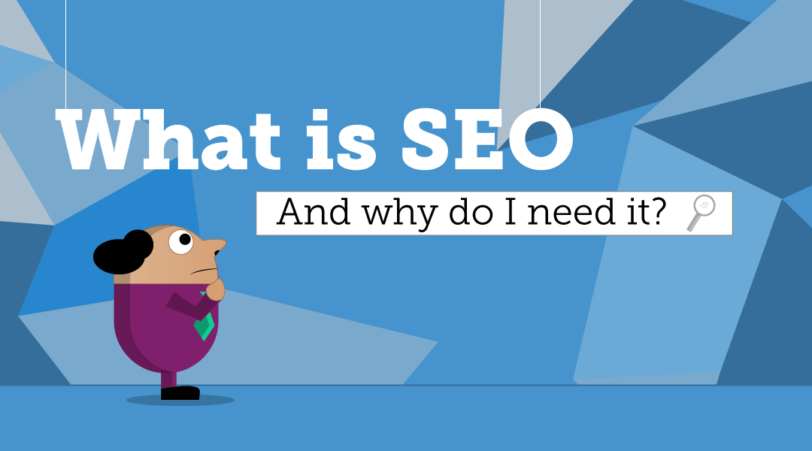 What is Search Engine Optimization (SEO)?
What is Search Engine Optimization (SEO)
In the world of growing technology and competition, traditional marketing has been substituted by Digital Marketing which is also known as  Internet Marketing.
Now if you are a beginner and want to understand what is SEO or search engine optimization, how it works then first we want you to understand what are search engines.
Major search engines like Google, Bing, yahoo are a software system or service that allows a user to search for an answer of the query via World Wide Web (WWW) using the internet. When a user enters keywords or phrases into a search engine, the search engine displays the N number of results in the form of webpages, videos, images or content based on the search engine algorithm. This list of the content displays in the results is known as Search engine result page (SERP).
What is SEO or Search engine optimization?
Search engine optimization is the exercise of increasing the visibility of the website to get the traffic from the "organic" or "free" search engine result pages.
All the primary search engines such as Google, Yahoo, and Bing have elementary search results where web pages, content, images, videos are shown on the basis of their ranking and most relevant to the users. An individual doesn't have to pay anything to list his/her website to rank higher in the search result pages (SERP's). It is completely a free platform.
Now the question in your mind would be what do you mean optimization and what do we need to optimize?
Is the only quality and quantity of the content matters to optimize?
Well the answer is "No"
Apart from better quality and enough content, we also need to well design and of course links as well.
How SEO works
Are you new to SEO? Looking to understand how SEO works?
Major search engines are like a data storage where they collect each and every information from all over the world's websites and web pages. When a user asks a query, search engines need to give the exact or relevant answer of the query. Now how they do so? Search engines need to know what's inside in every website or pages and how they relate to each other. To give the best answer of the query, search engines collects all the information from all the data stored and select the best answer to solve the query of the user.
With this system of search engines, people find the results exactly what they are looking for.
Every search engine have their own algorithm for turning all the information into useful search results.
For every website designer, search results always matter. When a webpage has a higher ranking, there would be more people to reach you as it helps people to develop trust more towards you.
The keys to the search algorithm for higher ranking make sure that your website has the below elements.
1)    Words matters – Search engines look for every word on the webpage. So when a user looks for the results of the query, search engines shows all the results in which the keyword of the user matches to the keyword of your webpage.
2)    Titles matters – Search engine pays a lot of attention to the titles of the page because it often summarizes the webpage.
3)    Links matters – Links between the websites matters. When one page links to another, it is usually a recommendation telling the user that this site has good information which can help one to solve the query. So the links between the web pages. A webpage with a lot of links coming to can look good to search engine. But it is very important to take links from trustworthy websites only.   
4)    Words in links – It is easy for search engines if you keep relevant keywords in the links.
5)    Reputation – This is one of the important keys for the search engine is to maintain the reputation. Engaging content helps in growing the quality links.
It is very important to learn that you can draw the attention of all the visitors to your website but it is not necessary that all the visitors are giving you quality traffic. Some traffic might come to your website just because Google is redirecting the visitors to your website. It doesn't mean you are fulfilling the requirement what the visitors are looking for. So it is necessary to attract the quality of traffic who are actually looking for the product you offer to them.
Important SEO Tips to follow
Keyword Research

– Before starting your assignment, it is important to know about the important keywords which would help in optimizing the webpage more.
Commitment – SEO of any website or webpage is not about one time practice. The algorithms of search engines are subjected to change on a regular basis.

One needs to be updated according to time and changes about the tactics. It takes a long term commitment of an individual.
Patience

– Every SEO expertise needs enough patience while optimizing the webpage as SEO isn't about instant satisfaction. It takes time to get fruitful results. I.e Most probably months to see especially when your website in newly designed.
Link Building

– You can start building links with trusted directories like

DMOZ

. As it may take up to 45 days' time, so don't waste your time about directory submission. Just submit and move ahead. Try to build links who has good Domain and Page authority from the same industry. Also, it is crucial to check the spam score before taking any do follow backlink.
Use of Social Media Platforms

–  Nowadays almost every person uses social media sites and spend most of their time on like Facebook, Twitter, Instagram, Flickr, Quora which might help you to increase the awareness of your website especially if your website contains visual content. One should definitely join these platforms to speed up the traffic into your website. Please note that spamming is strictly prohibited in these platforms. Make sure that you are an active and beneficial contributor of the site.
Get Benefits of Local Search Facilities

– Online search for offline purchasing is a growing trend. You can optimize your website to fetch local traffic into your business by displaying your business with address and contact detailed information. Also mention the landmarks in the page text. Register your website to the free local listing services that the major search engines like Google, Yahoo and Bing offer. It would be more beneficial if you encourage your happy customers to drop the comments in the comment section on these sites.