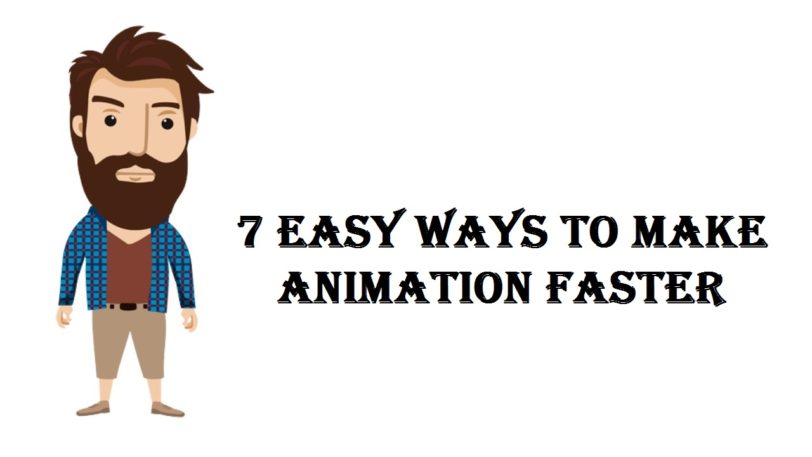 7 Easy Ways To Make Animation Faster
How to Make Your Own Animation
Everything comes with a code to crack, just like animation. If you are a novice animator and want to learn how to create a video within minutes, you can follow the guide below.
Animation is interesting and can be confusing at the same time you just have to know that can thing that forms is the foundation. That is nothing else than appeal. From words to characters, themes to colors everything revolves around adding appeal in the video. You have to be clear with your goal before making an animated video and then lay the elements in their correct places. To learn the super trick of creating a video get down to the list:
The first thing you must do is to get your hands on a professional software. You have to install some good software that can enhance the quality of your work and assist you in making a remarkable video within no time. You can pop into the online makers. There you only have to sign up for making your account and then you can use the bundles of features that can help you in completing your video.
Before you dip your hands in animation, you have to learn the purpose of making it. You must know which way to head and what goals to achieve. If you are making an utterly promotional and then you have to do the research on the market and its target customers. You must know their concern and how to offer them great problem solving while addressing your product or services too. On the other hand, if you want to enhance your brand's recognition, then you have to come up with a bold and strong idea of introducing the brad in a way that it stays memorable and interesting for the viewers.  
The third most important step is to prepare a short script. Your intro must be catchy, add a question and a proper statement to instantly grab the viewers' attention. Throughout the video, you have to pay attention to using the right set of words maybe keywords to make it more optimized.
Choose The Category Of Animation
Animation comes with a number of categories. If you want to go for an explainer video when offering video animations service, you can choose a whiteboard animated video, video scribing, 2D or 3D and stop-motion animation. Depending on the category of animation you choose, you have to lay the foundation for your video.
Once you are done with your character, you can then head towards choosing your character. Remember a character is important in a video even if it's a promotional one. Because a character interacts with the viewer. The viewers get a humanly figure for the brand and they feel more connected with it. By adding a character, you can double the interest in the video and attract more potential customers efficiently.
There are a number of templates available on the internet. You can simply browse and choose the one that fits perfect on your video. Your theme must go hand in hand with your video and its industry. You must not add a theme having too bold colors or irrelevant features. Your theme will give a boost to your overall video too. So be careful when making the selection.
When adding animation to your video you have to be careful when arranging the time of frames. A successful animated video is the one in which each frame is out with its right duration to appear. These frames when played together create the motion. No animation can be created without being divided into a number of the frames. To demonstrate the movements you have to first divide them in different frames and then play them together.
Wrapping Up
A tip for you is to seek inspiration from professional's work. You must get an idea as to how other are creating especially your rivals. You must note their work and then add innovations to your creation. Follow the portfolios of leading animators and pick their techniques. Do not copy paste their methods, simply blend it your creativity and come up with an even more appealing draft.