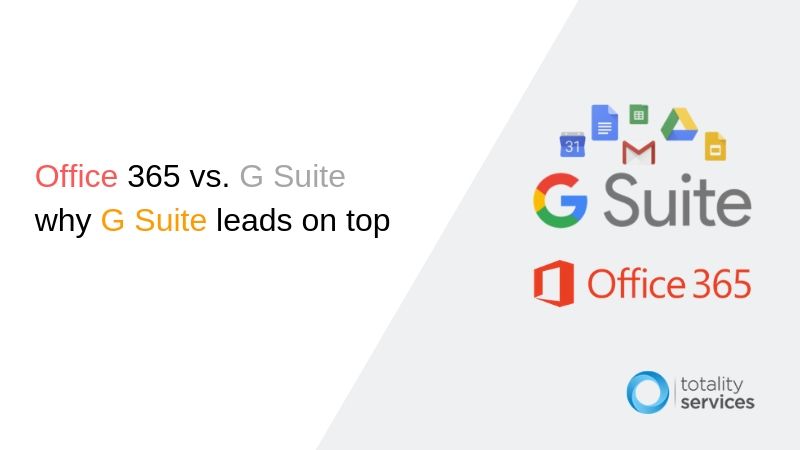 Office 365 vs. G Suite Why G Suite Leads On Top
Office 365 vs. G Suite: Why G Suite Leads On Top
While switching to cloud platform, whether to prefer Microsoft's Office 365 or Google's G-Suite is generally the first decision to make by both medium and small business owners. The chosen cloud platform may vary from person-to-person depending on the business' expected growth, technical requirements and its size. Moreover, there are some crucial factors to consider such as usability, functionality, integration, collaboration and security to make the final decision. 
Usability
Despite the dominancy of Office 365 in the productivity solution, the simplicity of G Suite makes it ideal when seen from the usability perspective. The smooth interface of G Suite allows its users to use it easily even outside of its box. Latest changes to the interface of Skype make it quite difficult to use by some users. 
On the other hand, Google Hangouts possesses an easy user interface, even on mobile formats too. You have to consider one more factor- demographic of the employees of your organisation. In contrary to new generations, older generations are familiarised more with Microsoft Office. 
Alternatively, the new generations have turned their head for G Suite. So, they are accustomed to the features G Suites and accept it as their most preferable collaboration platform.      
Functionality 
While talking about functionality, Office 365 is an unrivalled one. It is equipped with SharePoint that hosts a wide range of applications via Workflow for regularising numerous businesses' procedures to dashboards. It helps in keeping the track record of KPI of the enterprise. These impeccable specifications are visually not present on Google. 
As a result, several apps of G Suite are incomparable to that of Microsoft Office 365 on the basis of power. Furthermore, Excel has a robust of data visualisation tools to handle multiple mathematical formulas and huge data entries for effective and advanced calculations. Similarly, a plethora of toolbars and ribbons of Word is loaded with a number of features which cannot be noticed on Google Docs.
Therefore, it can be concluded that Google Docs and Sheets have endless scopes and can be intended for basic purposes especially that of the smaller organisations. Also it can be managed by IT Support London easily and greatly for any inconveniences.     
Integration 
Though both G Suite and Office 365 are compatible to any cloud services (CRM, ERP, SAP, Salesforce etc.) yet Office 365 encounters fewer issues than G Suite when it's about integration. The most usual problem regarding G suite can be observed with Gmail. Format fidelity in it becomes impossible to maintain while using any third-party apps. 
It can change font size or image position for PowerPoint presentations. Excel loses its own format too while pasting on Gmail. Whereas there are much more issues with G Suite, you cannot find any on Office 365. This makes it a standard option for both large and small organisations. 
Collaboration
The reputation of G Suite as an unparalleled collaboration service is because of the unfamiliarity of the users with the collaboration tools of Office 365.  Despite this, it is undeniable that Office 365 possesses an improved set of collaboration tools. According to the users of Office 365, it is troublesome for editing files in Word or Excel simultaneously. 
It is because of the interface of the Office 365 that doesn't let the collaboration with the user in the way G Suite does. Therefore, sometimes the organisations don't install the Microsoft applications' desktop version simply to avoid the issue completely.   
Security 
When considering the security in Office 365 vs. G Suite, the former one is superior. But both Office 365 and G Suite administrators can customise their own security protocols easily for managing permissions and user access. Even both of them update their own cloud suites frequently to keep them secure. 
While in the past the security of Microsoft Office has struggled to cope up against threat detection, today it shows its excellence. Local detection system of both Office 365 and G Suite performs outstandingly to filter out spam, phishing attempts and malware. 
The basic difference between Office 365 and G Suite is whereas the former possesses multi-factor authentication the latter one possesses only two-factor authentication. Perhaps the security fault of G Suite is responsible for its platform's convenience. 
By allowing its plethora of connectivity to develop connection with extensions and third-party apps it becomes a concerning threat to security because of the granted permission to its users. In contrary to this, Office 365 is really difficult to use for login due to its numerous preconfigured steps.        
From this discussion it is clear that integrity of standards is essential to consider prior to take the final decision. Totality Services will disclose the reasons of its popularity as the standard cloud platforms for most industries for enhancing their productivity. Even SMEs can be greatly benefitted from it. However, G Suite is comfortable to use for start-ups to perform basic functions.