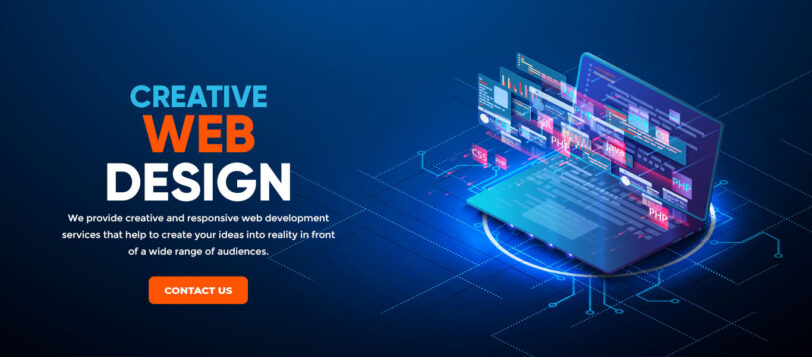 Top Web Designers in Delhi
Website Designing Company in Delhi
Digi Web Art is a leading website designing company in Delhi with an aim to improve any Business / Organization's productive and financial growth by implementing necessary IT infrastructures and applications, that offers professional Web Development and responsive web design services at affordable prices.
We are a web designing company in Delhi that provides all the web solutions services ranging from WordPress, Shopify, Magento, Java, PHP, .Net to ROR, and Perl; and this makes us one-stop-shop for all your website needs. Our unrivalled creative and technical expertise, and a passion to deliver the best, help us stay in the lead. We are the website design & development agency, that follows global best practices ardently, for all that we do – designing, developing and deploying web applications. We consider all crucial aspects like mobile friendliness, responsive web design, consistency, clarity, navigation and lot more. With all our expertise, experience and awareness about latest tactics, we create web solutions in a cost-effective and time-efficient way.
Web designing company in Delhi
We develops basic website, Static, Dynamic, New Portals & e-commerce websites in Delhi, mobile apps (Android & iOS), software development, website designing company in Delhi, logo design in Delhi, graphics design.
We are best web designing company in Delhi. We are providing website designing in Varanasi. We are expert website designer in Delhi best in industry. In digital marketing era, this is not only #usinesswebsite but its will showcase your business. We have numbers of clients from India And Abroad.
Team of developers and designers has proves there presence among top website designing company in Delhi. Our Motive is to make your business online through website designing in Delhi and digital marketing in Delhi with real world experience. We make your #website #software fully functional. We are very happy then our clients get leads from there website and recommended us as "Top IT Company In Delhi" "Best Digital Marketing Company In Delhi" " Website Designing Company In Delhi" "Best E-commerce website designing company Delhi".
Web Design Company In Delhi  Engage your Audience & Generate Leads with Web Design Services
Are you looking for a web designer Delhi? You may be looking for one of the web design companies in Delhi to help you get an effective online presence. We, at Digi Web Art, one of the top Web Design & Development Companies in Delhi, provide web design and development solutions to Delhi clients. Our websites are user friendly and optimized for UI and UX, leaving the best experience for your customers. Our web design agency Delhi understands the aspects of designing and development and knows how to build an awesome website that converts well.
Whenever you are planning to get hold of the best online business decorum, you have to think about creating your website first. Now, designing a website in an SEO friendly manner is not a child's play. You need to understand the norms, and learn the latest techniques, which are to be implemented for that and being one of the most trusted website design companies in the Delhi, we can help you build awesome websites. So, join hands with us at Digi Web Art, a renowned web design agency Delhi to transform your vision into a reality. We are a reputed ecommerce website designing company in Delhi, offering high quality solutions for helping clients get effective online presence. You can hire our web designers in Delhi to guide you in every step you take.
Web Designer in Delhi Always at Your Service
Being one of the best web design companies in Delhi, we know that people demand flexible and scalable web solutions, whenever they are trying to work with the finest web development and designing company. Some are looking to create a new website, whereas others might have the wish to remodel an existing one. So, always be sure to contact our web designer in Delhi, before taking any kind of advice for web design services in Delhi.
We know how to use the latest tools and technologies and we ensure that our clients get future-ready solutions. There are loads of interesting packages available and we offer custom services for website design. Being one of the best website design companies in Delhi, we are known for offering top quality consulting. The best part is that you do not even have to spend a single penny as we offer free consultation services.
Get Immediate Help For Web Design In Delhi
Are you looking for some immediate help in web designing services? There are a lot of website design companies in Delhi and you may get confused when selecting the right one. If so, then avoid wasting any time, and go for hiring web designer Delhi from us on a part or full time basis. We are readily available to provide top-notch quality services at affordable rates. We are among the most trusted web design companies in Delhi, and our services we offer are hard for you to miss.
Why choose Digi Web Art as your Web Design Agency in Delhi?
If you are confused about choosing the best amongst the leading website design companies in Delhi as there are a lot of options, make way for our name. Our website design company Delhi is here to provide you with quality solutions as we believe in offering promising results for long term success. Always make sure to join our web design company Delhi  for the finest response. After sketching out your needs, we will offer great support and assistance with the best results. Our website design company Delhi is glad to offer responsive quality web design services.
How Our Web Designers Can Help
At Digi Web Art, we are focused on relationships, not just the project. We want to help ensure your success with a professional web presence. Our web development team is ready to get started on your website design in Delhi and help you improve conversions and boost sales. Contact Digi Web Art today on 7976779760 for more information on our website designing services.