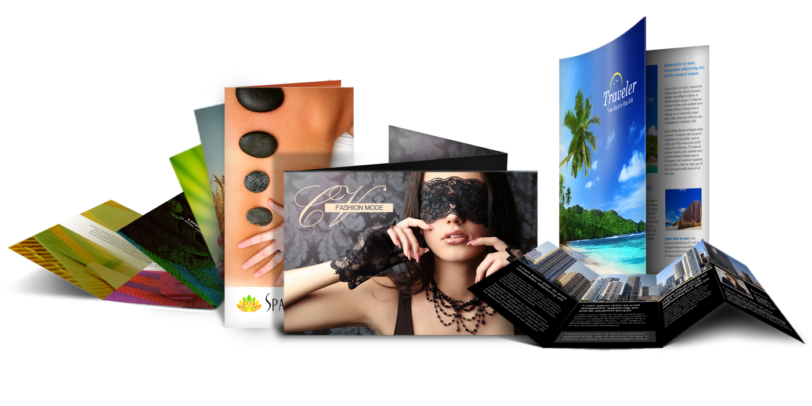 Leading Brochure Design Company In Ahmadabad Providing Catalogue & Brochure Design Services
Catalogue & Brochure Design In Ahmadabad
No matter what industry you operate in or what products you're selling, a high quality brochure or catalogue can be one of the most effective marketing tools for your business – one that sets you apart from competitors. This is a chance to showcase your products in a format that speaks to your quality, craftsmanship and will appeal to your customer's aesthetics.
Brochure Designers Ahmadabad
A well-designed brochure speaks volumes about your company, its confidence, and the respect you have for your customers. It might be a prospectus, a piece of commemorative literature, or an annual report. The subject doesn't matter. What counts is the thought put into creating something attractive, useful and enjoyable for your readers. A professionally designed brochure or report, with high-quality images and copy, is the print equivalent of a firm handshake.
In our more whimsical moments we'd go so far as to call great brochures works of art. There's so much opportunity for creativity. You're limited only by your imagination (and your budget, of course). Given the amount of choice, creating a new brochure can be daunting. Fear not. As professional brochure designers in Ahmadabad, we can design you a brochure that does its job beautifully, whether it's a simple brochure of several pages or a complex report of several hundred. On this page, we'll explain how Brochure design involves many challenges.
Managing multiple contributors, meeting deadlines, ensuring design and tone of voice consistency, producing top-notch images and copy. The list goes on. Our job is to take these concerns off your hands. Print is a flexible medium during the design phase. Once the brochure is printed, however, changes are harder and they can be costly. So you need a brochure design agency in Ahmadabad that is not only creative, but thorough and rigorous in its approach as well. Knowing why you're creating the brochure is vital. As is understanding your audience and what they'll respond well to. Setting clear objectives makes deciding details easier. These include the stock (paper) the brochure is printed on; the size and format of the brochure; the colours used; the photographs, illustrations and infographics commissioned or sourced; the copy and copy editing; and the finishing, binding and, finally, distribution. We can handle all of this. Catch us in the pub and we might ramble on about print design. We love it. It's how we started. Although we've fully embraced digital design, print holds a special place in our hearts. There's something magical about the look, feel, even smell, of a great piece of print design. We'd be first in line to accept a brochure project, and we have the experience to match our enthusiasm.
AN EXPERIENCED AHMADABAD-BASED GRAPHIC DESIGN AGENCY SPECIALISING IN CATALOGUES & BROCHURES
As one of Ahmadabad's premiere full service digital and print agencies, the Digi Web Art team know how to design brochures and catalogues that will be remembered. Our team consists of highly skilled graphic designers who can translate your vision onto the page, and will then work with you to create the right brochure design for your clientele. Our high quality print arm can then ensure that this is brought to life in exactly the way you desire, seeing your product through from initial idea to the finished product. We are fully equipped with the latest printing technology, and can consistently offer a quality service from design to despatch – all at competitive prices. This gives your business control over your catalogue and brochure design from start to finish, and of course, we are there to guide and advise you along the way.
We're proud to be leading designers of brochure and catalogue design in Ahmadabad, and have built a reputation on strong working relationships and above all else, listening to our customers needs to deliver outstanding results.
Whether you're a Ahmadabad fashion house looking to distribute a new season catalogue, or a wholesale company wanting to detail the thousands of products you stock in an easy format, we will work with your team to deliver a tailored solution for your target market. We can cater for everything from a simple eight-page brochure to catalogues of over 300 pages. And, with over ten years experience in the industry, our expertise doesn't end with brochure design.
We can also expertly advise on brochure size, effectiveness, image placement and much more, to make sure your design has the greatest impact within your marketplace, and will be guaranteed to enhance your business.
Ready to design your dream brochure or catalogue? Let's get started! Call Digi Web Art today.
Using our expert knowledge of high quality print products, combined with innovative catalogue and brochure design we will create a unique, yet practical product that will inspire your clientele.
To view a full portfolio of the services we offer, click here or for more information on our printing services, call us on 0208 900 1191 and a member of our team will be happy to help.
Recommended by Clients as Ahmadabad's Best Brochure Design Company !
Do not wait anymore! simply call us on +91 7976779760  or email at info@digiwebart.com or Contact Us to know more about best brochure design services in Ahmedabad. You can also contact us by submitting the Quick Enquiry form on the right side of this page to know more about the brochure design services in Ahmadabad.