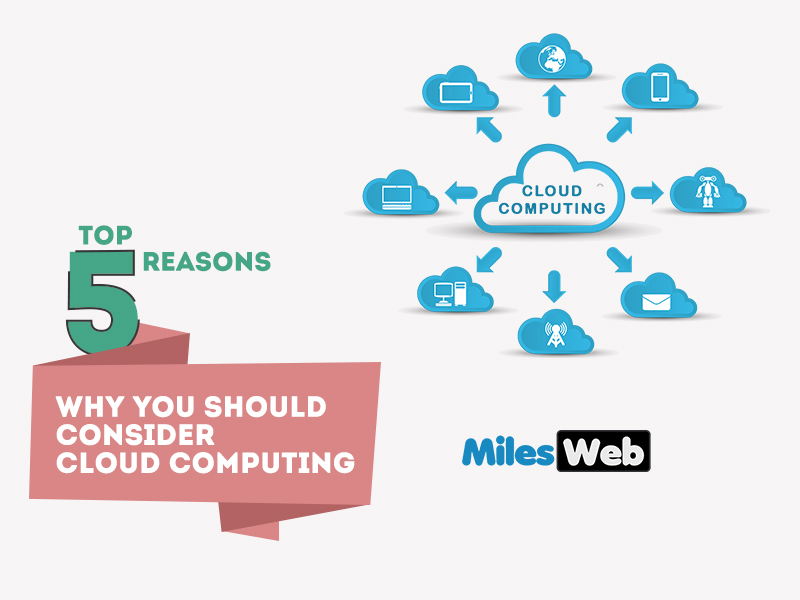 Top 5 Reasons Why You Should Consider Cloud Computing
Since two years,  I have been using cloud hosting and experiencing the best performance in my business in terms of performance and output. The aim behind adopting cloud is that cloud is the best buddy of the startups. If you research the total number of users who are using cloud then you will get surprise because there are a million of companies not in India but out of India too has adopted cloud for their business. So what are you guys waiting for? It's time to launch your own business with cloud hosting. This post will help you to know more about cloud computing and why you should go for MilesWeb
Why MilesWeb Cloud?
MilesWeb is an Indian web hosting company established in 2012. They aim to provide hassle hosting service for all types of businesses and assist them to established online successfully. Their product line is huge as it covers services like Reseller, Shared, Cloud, Dedicated, VPS, Business, WordPress hosting, Node.js hosting and much more.
Being a startup, MilesWeb cloud is the best solution for your business. In their cloud, you will get features like pay per usage model, automatic scaling without downtime, more than 100 pre-configured apps that can get install with one click, self provisioning access, DevOps automation, Docker container support, traffic distributor, etc.   You can use their support service as their plan starts from basic which is free, followed by Business plan starting from Rs.1699/ mo and next is the enterprise plan which starts from Rs. 4499/ mo. They are reachable via email, chat and phone.
MilesWeb cloud server hosting will saves your money and resources because they follow pay per usage model that allows you to add Rs.300/ in your account and you can start using your own cloud instantly. Additionally, you can try their cloud service at free of cost without using a credit card.
MilesWeb Cloud comparison:-
Main features of cloud hosting:
Simplicity

Affordability

Scalability

Reliability

Customization

Security

Suitable for all business

Easy app deployment
Reasons to use cloud computing:-
1) Ease of Use:
Cloud computing is comparatively easy when it comes to designing an app, deploying, scaling, development, etc. The design of the cloud is made in such a way that help the business to adopt smooth flow of working. Even though you have a small budget, you can use cloud hosting and take benefit of feature "pay usage model" to save your resource and money.
2) Small Investment:
The main issue which most of the entrepreneurs are facing  is the lack of money. Being a startup, if you are facing the same, then it is time to switch to the cloud.  As I said before, MilesWeb offer cloud hosting at an affordable cost, as you can try their free service without using your credit card. With the help of pay per usage model, you can save your resource and money.   
3) Scalability:
If you are receiving a good amount of traffic on your website, your resources will start consuming rapidly. Due to heavy traffic, your server will get overloaded and you can face issues like server downtime and 404 error.  In such case, you can use the cloud feature "automatic scaling" to manage your resources as per the requirement. This feature will help you to scale the resources vertically and horizontally without any downtime. Even though one server gets crashed then other connected server will make your website live.
4) Increases storage capacity and automation:-
The cloud provides virtually unlimited storage feature in contrast to the traditional cloud computing system. This gives flexibility to your business to upgrade storage space at any time. It keeps your software updated and sync files of your devices. Moreover, your data will get monitored 24*7.
5) Security:-
Security is the foremost factor about which every firm must be concerned. Similarly, cloud computing assures a high level of security including data encryption and strong password requirement. This will protect your business data by reducing the risk of a breach. The firms that store confidential information such as medical records or bank account information can opt for cloud hosting to avail superior security features.
Conclusion:-
Cloud is the best solution for all types of businesses and you can surely begin your business journey with the cloud service. From the above mentioned all the parameters you can consider MilesWeb cloud and launch your business instantly. Have you ever tried cloud for your business? Share your views with us on this.