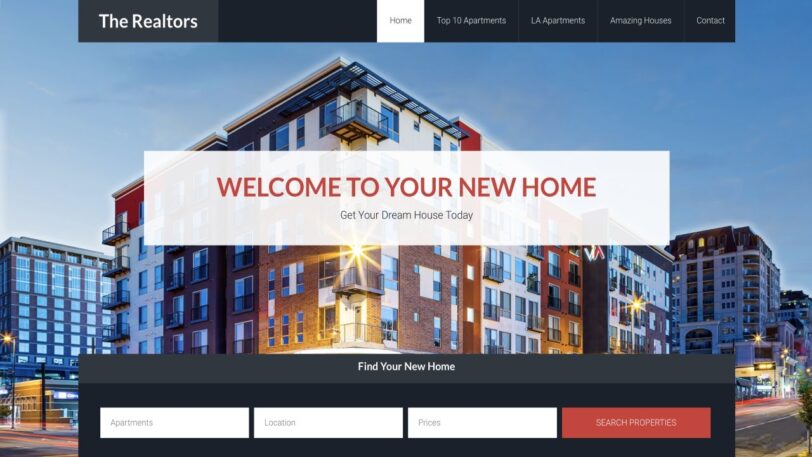 JAIPUR REAL ESTATE WEB DESIGN
REAL ESTATE WEBSITE DESIGN IN JAIPUR
Looking for affordable professional real estate website designer and developer? As the son of a Realtor, I have what my competition may view as an unfair advantage — let's just call it a competitive edge. I offer three engagement models to build your online presence.
I set myself apart as an Jaipur web designer by providing stand-out web, design, and marketing services to my clients. Real Estate websites are a specialty of mine. Below I list out what you can expect from working with me. With a long list of satisfied clients, I'm sure you'll be confident in your decision to work with me.
BE PROFESSIONAL 

CUSTOM-BUILT REAL ESTATE WEBSITES IN JAIPUR

When you choose to work with me, I build you a custom website as a strong base for your web presence. Every Realtor is different, so I get to know you and the type of clientele you're after. Then, I work hard to hand-design a beautiful, yet effective, website for you.
DESIGNED FOR YOU
I'll create a design specifically for you. That means I won't use a template or give you a cookie-cutter design. I'll create a unique design for you that fits you.
MLS INTEGRATION
Your website will be dialed into your local MLS, bolstering your relevant content. With automatic updates, local market content will always be fresh.
MOBILE-FRIENDLY
Mobile-friendly websites are a must these days. The website I'll create for you will look sharp on mobile devices, from phones to tablets and beyond.
A FINED-TUNED USER EXPERIENCE
Present a compelling reason for buyers and sellers to stay on your website with a fine-tuned experience and locally-relevant content.
EASILY EDITABLE
When you hire me to create or redesign your Realtor website, I won't leave you high and dry. Your site will come complete with a CMS for easy editing.
BE RELEVANT 

FULL MLS IDX INTEGRATION

In addition to your listings, integration with your local MLS provides access to a wealth of information directly integrated into your website.
USER-FRIENDLY PROPERTY SEARCH
When visitors arrive on your website, keep them around with a fantastic and useful property search that both buyers and sellers love.
COLLECT LEAD INFORMATION
Capture contact information from new leads with prominent registration prompts which convey your status as a thought leader they'll want to follow.
POSITION YOURSELF AS THE LOCAL EXPERT
Direct MLS integration into your real estate website allows for the use and presentation of beneficial information to your visitors.
FEEL CONFIDENT WITH ACCURATE DATA
With direct MLS integration, the data on your website will always be up to date. You'll never have to worry about updating MLS listings manually.
BE FOUND

SEARCH ENGINE OPTIMIZED
Mobile devices are foundational parts of modern life. Over 50% of smartphone users grab their phone immediately after waking up in the morning. Every website that I build is approached from a mobile-first perspective. That means all functionality first starts with it's mobile incarnation, then is expanded to include desktop-class interaction techniques.
BUILT FOR SEARCH ENGINE OPTIMIZATION
Did you know that SEO starts at the very beginning? Websites that are fully optimized for search engines are done so at both the code and content levels, which is exactly what I'll do for you. Not only does this provide a solid foundation for your website, it sets you on the right path for the future.
ALL CONTENT FULLY OPTIMIZED FOR SEARCH ENGINES
All content on your website — text, images, video, links, et cetera — will be optimized for search engines. This means adding title tags to links, alt tags to images, organizing the content in a proper hierarchy, ensuring content is optimized for mobile, verifying usability and readability, and much more.
INCLUSION OF STRUCTURED DATA
Structured Data refers to specialized code that specifically and accurately informs search engines about the content on your web pages. Not only can it greatly improve search engine results, it can also help search engines present your information in new, unique, and useful ways.
AUTOMATIC SEO AND SOCIAL INTEGRATION FOR NEW CONTENT
As new content is added to your website, either by you or via the MLS integration, it will be automatically optimized for both search engines and social platforms. Have you ever shared a page on Facebook or Twitter, only for it to post without an image? Never will that happen again.
LOCAL AND NATIONAL SEO
For Real Estate websites, there's no doubt that locally-optimized SEO is necessary. When you hire me, I'll work hard to ensure that both locally-based content is your website and that it's properly optimized for local and regional reach. But I don't stop there, I also optimize to boost your national reach.
ENHANCED SEO PACKAGES AVAILABLE
Search Engine Optimization is a moving target. While getting off to the right start is incredibly important, and will help to improve your Search Engine Result Page rankings, I also offer ongoing SEO services for a reasonable fee. I'd love to speak with you on a one-on-one basis to piece together a package for you.
We Craft and Manage beautiful & professional Real Estate Websites
Digi Web Art is a leading web design and development company with the proficiency in real estate website design and development. We are a competence tech firm in Jaipur offering all-inclusive web services under one roof. We have the team of like-minded professionals of real estate website design and development who are committed to provide winning technology solutions for real estate by completing your real estate solution- Web design, Lead Generation and Web Marketing.
Digi Web Art work with the clients to deliver real estate marketing solutions that generate real returns from their web presence.
Digi Web Art create websites that combine Design, Technology and Communication. We are the leader in real estate development, working to construct effervescent new communities across the world. Digi Web Art's distinctive design style sets today's standards for the real estate industry and offer much more than a basic web design. We craft modern commercial real estate websites with highly visual user interfaces and constantly strive to push the standard for real estate web design. We create professional websites that accommodate the individual needs of Realtors.
We are proficient in Responsive Website Designing. Our superlative responsive website design services are competent to build a master piece for your online business. We make great real estate websites. Our job is to make you look good – with great user experience that works at home and on the move.
Want to be found? We are genius in SEO services. Get your website discoverable, using an exclusive blends of technology and creativity through our SEO services. Our full-range SEO services start from On-page SEO to Off-page SEO solutions and we assure 1st page ranking of Google through our skillful SEO services.
Being a real estate professional you deserve to receive the maximum number of property listing enquiries possible. Digi Web Art can help you in bringing more leads and creating a premium customer experience- using the web to create opportunity. Increase the speed of your business with superior lead generating tools and systems. Hire the best real estate web design company for your needs.
What types of businesses can you help?
We are suitable for businesses that are service-based and run in a local or regional market. Moreover, our in-house website designers work with businesses throughout their website design projects to provide unmatched results.
Our services fit businesses of all sorts – B2B and B2C. These include:
• eCommerce
• Products
• Restaurants
• Real estate
• Technology
• Fashion
• Travel
• Photography
• Personal brands, and almost all.
If your website is outdated, not mobile-friendly, and does not turn visitors into leads, get our professional website design services today.