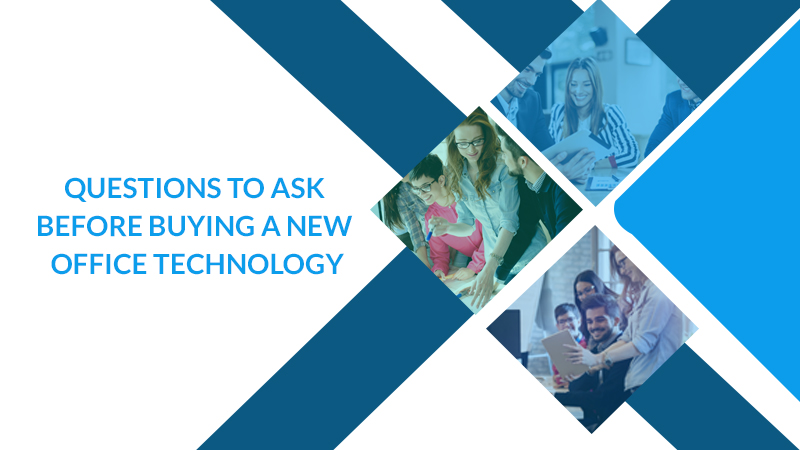 QUESTIONS TO ASK BEFORE BUYING A NEW OFFICE TECHNOLOGY
Technology is known to evolve from time to time. However, making timely decisions as to which new technology to buy for a business is critical for the survival and well-being of every business. It is important to have an underlying strategy for every technology purchased.  
Often, our clients at Totality Services are faced with difficulties on how to start with their new office technology purchase. It is quite funny that a few simple questions can help you make the right decision regarding the best IT equipment that suits your organisation goals, objectives and needs.
Before doing anything, identify your objectives and needs
An undeniable step to take in determining which new technology to buy is to identify your core objectives, as well as your unique business needs. At Totality Services, we often advise our London IT support clients to seek the answers to the questions below, before investing in any new technology for their business:
Which part of your business needs the technology?

What problems are you trying to solve?
How do you intend to structure your work environment, is it remote based or site based?
What skill gaps you feel that you and your teams have that tech may solve?

What are your greatest opportunity areas to save time in order to boost productivity?

Should I choose quality over price?
Having answered the above-listed questions, it is essential to consider the following while making your purchase:
1.Ensure your starter kit can grow with you
Most London IT support client, startups and businesses are often advised to approach their technology plan just the same way they structure a business plan. 
However, it is no longer naysaying that most startups who fail to plan their technology purchase appropriately may face some difficulties in the future. Thus, it is essential to get reliable and trusted products that cannot only grow with you but can also give room for expansion, in the next few years to come. If you feel you may experience some amount of difficulty in your technology plan, then you may need to consult an IT support company inLondon.
2.Should I buy or lease? 
At Totality service, a major consideration for most London IT support client, considering new equipment purchase is access to capital. However, it is important to involve your accountant when considering this aspect of your office technology plan. However, businesses or organisation with massive cash inflow can consider making outright payment of technology equipment, while they are depreciated over the useful life of their asset. In most cases, five years for hardware and three years for software should be enough. It is also necessary to consult ITsupport companies in London when planning and carrying out predictions.
Other flexible option most London IT support client often use are lease financing or financing through the suppliers, although, it is often difficult to distinguish between the two options. However, a striking difference between the two is that in financing through suppliers, the lender holds a lien against the technology equipment purchased while in leasing, the client is expected to return the equipment to the dealer when the lease period elapses.
3.Take advantage of a competitive marketplace, when making a purchase.
Although we often advise against purchasing inferior products; when putting together your office technology starter kit, ensure you take advantage of the goodies a crowded and competitive marketplace has to offer.
While many hardware suppliers may offer large discount or price splash on some of the product put for sale, other suppliers may provide zero financing and free trial periods on software purchased. However, stick to trusted brands as well as some brands that offer warranty supports. We also suggest that you take advantage of the review site to ensure that the products purchased are of high quality.
Are you still experiencing some difficulties with purchasing IT equipment? We at Totality Services will be glad to help. Call us on  020 3744 3105 for all your London IT support services.