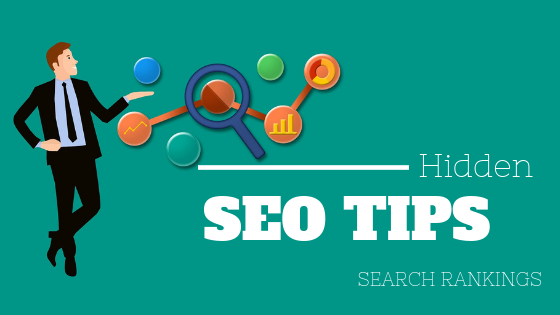 Hidden SEO Tips for Better Search Rankings
Search engine optimization makes sure that a website can ensure that it gets good rank in search engine.
SEO is required for every blog or website for generating good traffic. For this purpose, there are many tricks. If you want your online business to succeed, then you have to invest time and effort. It is a continuous process that makes sure you dominate search engine results.
It sounds impossible, but with these hidden tricks, it will become easy. I have researched some articles with optimal SEO and gathered the hidden tricks they used. Here are some hidden tricks that SEO team uses for better traffic and rankings.
Here are 11 Hidden SEO tricks for better rankings.
Quality external links should be used
External links are the most crucial element for optimizing the online page. Thus, focusing on quality links instead of quantity is important. Use backlinks of popular blog or website; this will bring in more traffic. When you use links from any page without checking its popularity or relevance, it just doesn't work. But SEO will be optimal when you comment or visit a known page as it will get you more traffic. Aherfs is one tool that can help you get quality backlinks.
Make the site faster
Google monitors the speed of the site and uses this as a ranking factor. Thus, it is important that the SEO team makes sure that the site loads quickly. A slow loading site makes users frustrated, and they switch to another blog without delay. Many reasons factor into a site being slow, and one of them is uncompressed images. Keep these points in mind for a fast loading site/page:
Keep monitoring the site and delete any unnecessary elements.

Uninstall any plugins that are not required
Use post automation tool
For better traffic and ranking, it is necessary to have a schedule. Automation is a tool that can help you with it. It lets you set a routine for posting a blog or video at a specific time any given day. An automation tool is present in social media which allows the expert to schedule a post/video in advance. This is extremely helpful when you are busy with other SEO related areas. Through this, the post/videos keep getting uploaded on social media and the traffic is continuous.
It's necessary to have a secure site
A secure site not only makes users trust you but is preferred by Google too. This is the reason every website must use the HTTPS protocol. The HTTPS protocol along with SSL (Secure socket layers) encrypts the consumer's data and protects it. This algorithm aids the Google analytic tool in providing the data for referral traffic.
Mobile-friendly site
Mobile users for any website accounts for 57% of the total users. So, make sure that it works smoothly on smart-phones. Not only does it need to load faster, but it should also have a readable font and color. Also, the keywords for the mobile version of the site differ slightly, so research that for an optimal mobile website.
Be present on social media
Social media has become one of the factors that helps a site/page gets a better listing on Google. Accounts on Instagram and Facebook are sometimes more popular and helps in bringing traffic. So, make accounts on relevant sites and keep posting on them often. With the help of an designing tools you can easily design attractive images.
Regular posting helps you to connect with your consumers and even get new users on board. Also, have all your post linked with your site/ blog so that users can directly visit it. Similarly, have social sharing buttons on the website. This will let the viewer's share post that they like on their social pages, which helps you get more visibility.
Monitor the SEO of the page
Google analytics and webmaster are the two best tools for monitoring your site's SEO. It gives you a sneak-peak into how your SEO strategies are going for the page. You can analyze and make better plans so that your site ranks better and get more traffic. It gives you specific details like where the traffic is coming from and which page gets the top traffic. This helps the experts to make the best strategies for optimizing your site.
Brand Mentions
Google webmaster trend analyst, Gary Illyes has stated at Pubcon that Google consider brand mentions as one of its strong ranking signals. The unlinked brand mentions helps in building a brand entity in front of the Google. The mentions of your brand on a high quality and relevant sites, Google gets a clear and better idea of your proficiency in a particular niche.
Mobile First-Indexing
The number of users who are accessing the internet via mobile phones are on continues rise. Soon the number crosses the desktop users. After considering this is an important factor in March 2018, Google has launched 'mobile first-indexing' update. The mobile page of the website plays a very vital role in search rankings.
Focus on quality content
Gone those days when the quantity of content is enough to rank a website in search engines. Today, in order to rank high, quality content has become a new buzz in the game. According to SEO experts from all over the globe, Google's broad core algorithm is all about how the website's fulfilling EAT (Expertise, Authoritativeness and Trustworthiness) standards.
Beef up with HTTPS
Do you ever notice a lock icon in the left hand corner of the url? This lock icon simply means that the site you accessing is safe. HTTPS (Hyper Text Transfer Protocol Secure) sites are those sites that are more secure to any type of data breach. Search engines are giving preferences to such sites in search ranking.
Remember these tricks next time you feel your site is lacking in traffic and rankings. If you think I missed some crucial points, tell me in the comments below.
Author Bio:
Kavita is Outreach Specialist cum Content writer. When not glued to her laptop, she can be found making travel plans that rarely happen 😉 Connect with Kavita on Twitter @dreamerkavita