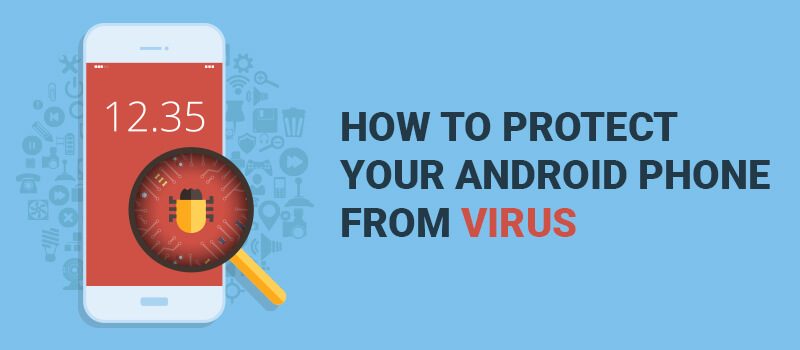 10 Tips To Protect Your Android Phone From Virus
If the possibilities of losing your data are giving you nightmares, just wait till your phone is attacked and infected by viruses!
While our PCs have always been a soft target for hackers, our smartphones are no longer spared. Those malware and ransomware have already invaded the security front. According to a recent report, 81% of all affected smartphones are Android, and merely 3% are iPhones. With attacks rising at an alarming level, you need precautions to shield your device against malware and other infections.
Here are 10 ways you can avoid malware from stealing your personal data and steer clear of infections.
1. Do not install apps from suspicious third-party stores
Google has been trying its best to restrict the spread of malicious code. It follows strict built-in mechanisms to screen new apps before they are uploaded to the Play Store. Therefore, it has always been insisting users download applications only from its store.
On the other hand, most other third-party app stores are loaded with malicious apps. Interestingly, they don't even pretend to be secure. They function by luring users to better experiences. There are also a lot of fake versions of popular paid apps available out there that extract sensitive data from users like banking details, device information, etc. and flee.
2. Use a third-party antivirus app
ITL Phone Cleaner's antivirus module is one of the best phone cleaner app available on the Play Store. It protects your phone against malware, adware and other infections in real-time and quarantines them before they can cause any damage. What you only need to do is to update the app from time to time. The maker regularly offers bug fixes and bring updates against new vulnerabilities.
3. Add Settings to prevent app installs from unknown sources
There is a setting in your Android device that prevents you from downloading applications other than from the Google Play store.
Step 1: Go to Settings on your phone.
Step 2: Scroll down to Security.
Step 3: Under Device Administration, tap on Unknown sources. Leave it unchecked.
4. Visit only secured and trusted websites
Websites are very easily accessible for the comfort of our smartphones today. The ones with HTTPS security certificates carry up-to-date malware defense and other with just HTTP certificate cannot be trusted anymore.
Therefore, always check if your website contains HTTP or HTTPS in its URL. Also, avoid malware injection platforms. Run searches on your default OS browsers instead of uncertain third parties as the majority do not even issue security certificates to websites.
5. Keep your Android updated
Every update brings bug fixes and new features to protect your phone. Therefore, it is crucial that your phone is always updated to its latest version or check about android cleaner. Here's how to do it manually.
Step 1: Go to Settings on your phone.
Step 2: Scroll down to About phone.
Step 3: Tap on Software (or System) update.
It will show you if your software is up-to-date or needs updating.
6. Do not use public Wi-Fi hotspots, unless much required
Public Wi-fi hotspots do not need any authentication to set up network connections. This makes hacking easier on unsecured devices. To access your information, all hackers will need to do is position selves between your device and a connection point and the rest is taken care of. Therefore, try your best never to use public Wi-Fi hotspots especially at airports, railway stations or restaurants. Rely on your mobile's internet instead.
7. Shield your device using biometric authentication
No password is off limits for hackers. They can even crack the toughest ones. And when you use easy to guess passwords, it is like you are serving your data on a plate. Luckily, there is a way out. Biometric authentication! Activate fingerprint sensor or iris scanner to protect your phone. Due to its uniqueness, your phone cannot be cracked into even if it is stolen.
8. Remove apps from untrusted sources
Always download apps from trusted sources. But if you have already installed such app, remove them immediately. Let's find out how to do it:
Step 1: Go to Settings on your phone.
Step 2: Find Apps or Application Manager.
Step 3: Stroll through the list of all apps installed on your phone. If you find anything suspicious or unfamiliar, you need to get rid of it.
Step 4: Open the App Info screen and tap on Clear Cache. This will remove the apps data cache.
Step 5: Next, tap in Clear Data to delete the app's data.
Step 6: Finally, tap on the Uninstall button to completely remove the app from your device.
9. Read permissions before allowing
Understand what you are committing to before allowing. Confused about what we are talking about? Whenever you are about to Install an app from the Google Play store, it asks for permissions. A permissions dialogue box appears.
Go through it before handing out access. So may need access to certain features of your smartphone. Make sure you know about this. And anytime you are in doubt or don't want to share such information, you do not need to install the app.
10.  Finally, bring you common sense into practice
Prevention is better than cure. Therefore, be cautious. Never don't click on dodgy links on your phone. Open only emails from trusted sources. And for the rest, flag them (if you haven't already) as spam or junk mail.
These tips definitely help. Try these out and see the difference for yourself.